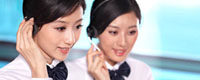 Name: Jack / Boris
Tel: +86-17059456950
Mobile: +86-13456528940
E-mail: [email protected]
E-mail: [email protected]
Add: Hepanshan, Chengxi Industry Zone, Yiwu, Zhejiang, China
Skype: live:borisyuecn
WeChat: 008613456528940
whatsapp: 008613456528940
QQ: 63859830





| | |
| --- | --- |
| | Product name : Cartridge Heater |
Details:
Cartridge Heater
Single End Heater
Industrial Heater
Mould Heater


PRODUCT DESCRIPTION
Electric heater cartridge is a piece of equipment, made of MgO powder or MgO tube, ceramic cap, resistance wire(NiCr2080),High temperature leads, seamless stainless steel sheath(304,321,316,800,840). usually in tube form,that is used in heating applications by way of insertion into metal blocks via a series of drilled holes. Cartridge heaters are manufactured in two basic forms - high density and low density.
High density cartridge heaters are used to heat plastic injection moulds, dies, platens and so forth, whereas low density cartridge heaters are more suitable for packing machinery, heat sealing, labelling machines and hot stamping applications.
·Injection molding - Internal heating of nozzles
·3D printer.
·Refrigeration-Compressor and defrosting
·Hot runner systems - Heating of manifolds
·Packaging industry - Heating of cutting bars
·Packaging industry - Heating of hot stamps
·Laboratories - Heating of analytical equipment
·Medical: Dialysis, Sterilization, Blood Analyzer, Nebulizer, Blood/Fluid Warmer, Temperature Therapy
·Telecommunications: Deicing, Enclosure Heater
·Transportation: Oil/Block Heater, Aircraft Coffee Pot Heaters,
·Food Service: Steamers, Dish Washers,
·Industrial: Packaging Equipment, Hole Punches, Hot Stamp.
1. Sheath material: stainless steel ss304/316/321/Incoloy 800 etc.
2. Insulation Material:High-purity Mgo powder
3. Heating resistance wire:Cr20Ni80
4. Working temperature: max 800°C
5. Diameter range (mm):2.6mm-30mm
6. Length range (mm):15mm-3000mm
7. Rated voltage (110-220):max1.27 times
8. Insulation resistance: min5Ω
9. With(and voltage:1500v/min)
10. Designed life:3000 hours
We can produce all kinds of cartridge heater,pencil heater, air cartridge heater, wax cartridge heater, ceramic heater and so on. Welcome to have samples for initial evaluation.