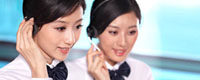 Name: Jack / Boris
Tel: +86-17059456950
Mobile: +86-13456528940
E-mail: [email protected]
E-mail: [email protected]
Add: Hepanshan, Chengxi Industry Zone, Yiwu, Zhejiang, China
Skype: live:borisyuecn
WeChat: 008613456528940
whatsapp: 008613456528940
QQ: 63859830





| | |
| --- | --- |
| | Product name : Ceramic heater |
Details:
Ceramic heating element ceramic infrared heater industrial heatingpads
Ceramic heater
Ceramic Pad Heater Description:(ceramic heating element)
Fexible Ceramic Pad(FCP) heater is a selection of high-quality nichrome wire rope, coat of high purity alumina ceramic pieces of insulation made crawler or rope heaters and other
products type. According to the shape of the workpiece, the size of production, can be spliced, bending, is wrapped snugly
workpiece heating, with the use of a wide range, fast heating speed, high heat utilization rate, convenient operation feature
and so on . The highest surface temperature can reach 1050 DEG C. Applicable to all kinds of metal components, such as
the large tower, pressure vessels, bridges, high pressure pipeline welding preheating, welding stress relief. Can also be
used for piping, vessels of auxiliary heating, indoor and outdoor is not restricted, is currently the most advanced, practical
local heating equipment.

Specifications
1)High-quality nichrome wire for heating element
2)High purity alumina ceramic insulation
3)Fast heating speed


Ceramic Pad Heater Technical Detail:
Insulation: Aluminium Oxide Ceramics (95%)
Heating Conductor: Ni-Cr wire(Cr20Ni80), 37 single strands of 0.4mm wire.
Temperature: Max. 1050 C
Power: 1KW/2.5KW/2.7KW/3.6KW/5KW/10KW
Voltage: 22V/55V/60V/80V110V/220V
Amperage: 45A