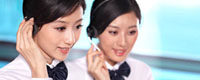 Name: Jack / Boris
Tel: +86-17059456950
Mobile: +86-13456528940
E-mail: [email protected]
E-mail: [email protected]
Add: Hepanshan, Chengxi Industry Zone, Yiwu, Zhejiang, China
Skype: live:borisyuecn
WeChat: 008613456528940
whatsapp: 008613456528940
QQ: 63859830





| | |
| --- | --- |
| | Product name : Kapton Heater |
Details:
Kapton Heater
Heating Film
PI Heater
Polyimide Flexible Heater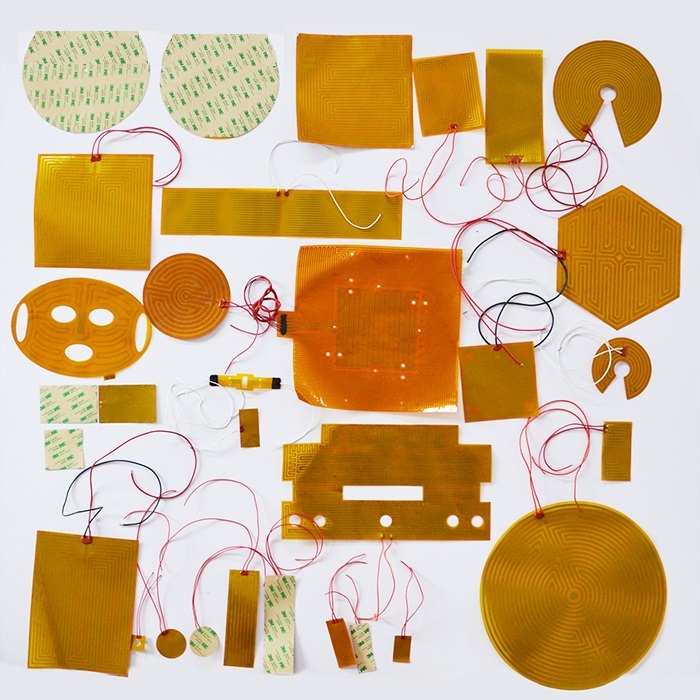 Product Description
Polyimide Flexible Heater (is a clear amber colored polyimide film. The process for making polyimide heater is similar to that of Etched Foil Silicone heaters. It is a high-temperature flexible heating element with excellent dielectric properties capable of operating environments between -185 degree celsius to 200 degree Celsius.
1. Temperature Range: -50°C~200°C, the max temperature is 130°C for the heater with paster.
2. Material: Kapton/FEP, polyimide membrane.
3. Resistance Precision: ±10%ak±0.5Ω(taking max)
4. The size can be very small and very thin.
polyamide flexible film,foil heater
1.Thermal developing in graphic imaging equipment
2.Prevent condensation in motors or instrument cabinets
3.freeze or condensation prevention in housings containing electronic equipment
for examples: traffic signal boxes, automatic teller machines, temperature control panels, gas or liquid control valve housings
4.composite bonding processes
5.semiconductor process heating
6.food service equipment
7.computer peripherals such as laser printers, duplicating machines
Heating film specifcations:
1 Polyester-imide film heater is a flake heater which can be applied in many kinds of industries with features of fast
heating and heating equally distributed and long service life.
2 Thin, lightweight heaters allow you to apply heat where it's needed, reducing operating costs Etched-foil heating
technology provides fast and efficient thermal transfer for increased throughput
3 Customized options (i.e. SMT components, flex leads and connectors) offer turnkey solutions to drastically reduce
assembly time and increase productivity
4 Custom profiling gives uniform thermal performance of the heating output to improve processing yields and productivity
Characteristics
1) Heater thin and light so you can just position on the need for heating without heating part can be avoided.
2) Etched foil heating technology provides fast and efficient heat transfer and uniform heating surface, the temperature difference is minimal.
3) Customization options (for example: SMT components, flex cable and connectors) can provide the perfect complete solution that can significantly reduce assembly time and increase productivity.
4) Custom configured to provide balanced heating output performance to improve process yield and productivity, in accordance with requirements of additional temperature control device and temperature sensing devices.
5) There FEP adhesive can be 200 ° C (392 ° F)
6) Suitable for vacuum environments (NASA-RP-1061)
7) Resistant to most chemicals: acids and alkaline solvents erosion
8) If you are using polyimide insulated wires (custom option) can resist 106 rads of radiation, PSA adhesive stickers can be installed or epoxy adhesive, silicone adhesive installation.
9) Providing a variety of complex shapes design, and different power designs. Membrane in the same piece electrically heated heating circuit can be designed and holding circuit
10) Providing a liquid immersion design (non-standard)
Polyimide film electric heater advantage
1.Planar heating, high thermal efficiency, energy saving
Polyimide film electric heater is planar heating material, with the heated body formed to maximize the thermal conductivity, small heat transfer resistance.Ohmic heating heat can be quickly transferred to the heated body, and because of this heating good thermal conductivity, so the heating temperature is not too high,not red, glowing, radiant heat loss is very small,hence the electric membrane made of electric appliances, thermal efficiency is very high, generally around 90%. As the traditional point of heat dissipation area is small, and other objects to be heated depends on indirect conduction, the electrothermal conversion process, the heat generated by power transmitted can be heated quickly, resulting in the heat of the heating element is too concentrated, the element itself becomes hot quickly, a large part of energy into a light energy loss, resulting in electric conversion efficiency is low.
Polyimide film type electric heater can be heated for the location of the heating. You only need to put them in need to heating the surface of the parts. The light-weight structures in the electric leaf provide close thermal coupling between components and radiator. In the area of heat loss is bigger, you can even specify the configuration using higher power density heating mode.
2.Preheat fast, long life, easy to damage
For larger surface area of the polyimide film-type electric heater of the heat transfer element plates foil effect higher than the winding type heater. Therefore polyimide electrothermal film is formed between the resistive element and heat sink thermal difference is not very obvious, electric film remains relatively low temperature state. General electric heat source is always used under hot condition, so it is prone to oxidation, joint caused by open circuit. The electric film work due to a large contact surface, fast heat conduction, so its temperature is low, which improves the ohmic heating electric film material in the oxidation state of their own problems, prolongthe service life.
3.Overall optional strong, wide application
Electric membrane can be made in film, linear, can according to the need of the interception of different length and size, with wrap, paste and winding is fixed in the heated surface, the complex shape of the vessel or the work surface can be coated. The characteristics of electric heating film application range of the electrothermal film heating element is much wider than the traditional.
4.No open flame, safety and reliability
Electric film in electric conversion process does not produce fire. When the electric film heater is heated to 100 °C boiling state, the electric film does not burn paper, cotton, matches, it will not ignite in contact with. Therefore, it is suitable for some electric film heating insulation needs, but does not allow application of special places exposed to open flames.
5. Save space,reduce weight
Polyimide metal electric heating film weight usually only (0.04 q/cm2), measuring the thickness of element only (0.12mm). For areas with limited space, such as defense electronics, aerospace equipment, portable medical equipment, high-density electronic devices, polyimide film electric heater can meet your requirement.
6.Anti-corrosion, anti-radiation
Resistant to most chemicals, such as acid and solvent corrosion. Resistant to 106 rads of radiation.
7.Custom Device
Custom options can provide the perfect complete solution, significantly reducing assembly time and improve productivity. Custom configuration provides a balanced heating output performance, in order to improve the processing capacity and productivity.