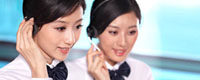 Name: Jack / Boris
Tel: +86-17059456950
Mobile: +86-13456528940
E-mail: [email protected]
E-mail: [email protected]
Add: Hepanshan, Chengxi Industry Zone, Yiwu, Zhejiang, China
Skype: live:borisyuecn
WeChat: 008613456528940
whatsapp: 008613456528940
QQ: 63859830





| | |
| --- | --- |
| | Product name : Defrost Heating Tube |
Details:
PRODUCT DESCRIPTION
Defrost heating element
Defrosting heating element is designed for defrosting hard of various kinds of freezer, refrigerator. It is adopted the stainless steel as the base material. Any shape to the user's requirements This properties of the product are defrosted effectually, The insulating resistance is excellent , corrosion-resistant, resist and wear out ,It is safe and reliable to carry the sealed dampproof performance of the end which obtained the national patent. The quality indexes of the products and technical indicator are all better than JB/T2379-93 standard.
1. Defrosting Heating Element is Apply in Refrigerator, Freezer , Evaporator ,Unit cooler , Condenser.
2. The material of tube is Incoloy840, 800, stainless steel 304, 321, 310S, aluminum.
3. The diameter of tube is 6.5 mm, 8 mm, 8.5mm,9mm,10mm,11mm& 12mm, 14mm,16mm and so on.
4. Ambient temperature: -60°C ~ +125°C
5. High- voltage in Test : 16,00V/ 5S
6. Firmness of connection end: ≥50N
7. High temperature molded Neoprene
8. Can be manufactured to proper length
1.Insulation resistance:500MΩ
2.Leakage current to be 0.5ma max While energized at rated voltage
3.Power tolerance:+5%,-10%
4.Voltage:12V-440V
5.Diameter range:4.5mm to 20mm
6.Heating resistance wire:0Cr25Al5,Cr20Ni80 or as custom'es requirement
7.Air tubular heater wattage : ≥ 1w-5w/cm2
Defrost heating element for air cooler and freezer
| | | | |
| --- | --- | --- | --- |
| Material of tube: | AISI304 321,316 Incoloy840 | Voltage: | 110V-480V |
| Diameter of tube | 6.5, 8, 8.5, 9,10, 11,12mm | Power | 200W-3500W |
Some Type of A
Type No.

A(MM)

Power(W)

ф D1(MM)

L(MM)

фD2(MM)

A-500

500

200W

6.5, 8, 8.5, 9,10,11,12mm

700mm

D1=6.5mm

D1=6.5mm

D1= 8mm

D1=8.5mm

D1=9mm

D1=10mm

D1=11mm

D1=12mm

D2=8mm
D2=8mm
D2=9.5mm
D2=9.5mm
D2=10mm
D2 =16mm
D2=16mm
D2=16mm

A-1000

1000

400W

6.5, 8, 8.5, 9,10,11,12mm

700mm

A-1500

1500

550W

6.5, 8, 8.5, 9,10,11,12mm

700mm

A-2000

2000

700W

6.5, 8, 8.5, 9,10,11,12mm

700mm

A-2500

2500

850W

8, 8.5, 9,10,11,12mm

700mm

A-3000

3000

1050W

8, 8.5, 9,10,11,12mm

700mm

A-3500

3500

1250W

8, 8.5, 9,10,11,12mm

700mm

A-4000

4000

1400W

8, 8.5, 9,10,11,12mm

700mm

A-5000

5000

1750W

8, 8.5, 9,10,11,12mm

700mm

A-6000

6000

2100W

8, 8.5, 9,10,11,12mm

700mm
TYPE: AA
| | | | |
| --- | --- | --- | --- |
| Material of tube: | AISI304 321,316 Incoloy840 | Voltage: | 110V-480V |
| Diameter of tube | 6.5, 8, 8.5, 9,10, 11,12mm | Power | 200W-3500W |
Some Type of AA
Type No.

A(MM)

Power(W)

ф D1(MM)

B(MM)

фD2(MM)

AA-500

500

400W

6.5, 8, 8.5, 9,10,11,12mm

300mm

1.D1=6.5mm
2.D1=6.5mm
3.D1= 8mm
4.D1=8.5mm5.D1=9mm 6.D1=10mm 7.D1=11mm 8.D1=12mm

D2=8mm
D2=8mm
D2=9.5mm
D2=9.5mm

D2=10mm
D2 =16mm
D2=16mm
D2=16mm

AA-1000

1000

800W

6.5, 8, 8.5, 9,10,11,12mm

300mm

AA-1500

1500

1100W

6.5, 8, 8.5, 9,10,11,12mm

300mm

AA-2000

2000

1400W

6.5, 8, 8.5, 9,10,11,12mm

300mm

AA-2500

2500

1600W

8, 8.5, 9,10,11,12mm

300mm

AA-3000

3000

2100W

8, 8.5, 9,10,11,12mm

300mm

AA-3500

3500

2250W

8, 8.5, 9,10,11,12mm

300mm

AA-4000

4000

2800W

8, 8.5, 9,10,11,12mm

300mm

AA-5000

5000

3400W

8, 8.5, 9,10,11,12mm

300mm

AA-6000

6000

4000W

8, 8.5, 9,10,11,12mm

300mm
TYPE: U

Material of tube:

AISI304 321,316 Incoloy840

Voltage:

110V-480V

Diameter of tube

6.5, 8, 8.5, 9,10, 11,12mm

Power

200W-3500W
Some Type of U
Type No.

A(MM)

Power(W)

ф D1(MM)

L(MM)

фD2(MM)

U-500

500

400W

6.5, 8, 8.5, 9,10,11,12mm

108mm

1.D1=6.5mm
2.D1=6.5mm
3.D1= 8mm
4.D1=8.5mm
5.D1=9mm 6.D1=10mm
7.D1=11mm
8.D1=12mm

D2=8mm
D2=8mm
D2=9.5mm
D2=9.5mm
D2=10mm
D2 =16mm
D2=16mm
D2=16mm

U-800

800

640W

6.5, 8, 8.5, 9,10,11,12mm

108mm

U-1000

1000

800W

6.5, 8, 8.5, 9,10,11,12mm

108mm

U-1200

1200

900W

8, 8.5, 9,10,11,12mm

108mm

U-1500

1500

1100W

8, 8.5, 9,10,11,12mm

108mm

U-2000

2000

1400W

8, 8.5, 9,10,11,12mm

108mm

U-2500

2500

1600W

8, 8.5, 9,10,11,12mm

108mm

U-2800

2800

1900W

8, 8.5, 9,10,11,12mm

108mm

U-3000

3000

2100W

8, 8.5, 9,10,11,12mm

108mm
TYPE: UB

Material of tube:

AISI304 321,316 Incoloy840

Voltage:

110V-480V

Diameter of tube

6.5, 8, 8.5, 9,10, 11,12mm

Power

200W-3500W
Some Type of B
Type No.

A(MM)

Power(W)

ф D1(MM)

L(MM)

фD2(MM)

U-500

500

400W

6.5, 8, 8.5, 9,10,11,12mm

108mm

1.D1=6.5mm
2.D1=6.5mm
3.D1= 8mm
4.D1=8.5mm
5.D1=9mm
6.D1=10mm
7.D1=11mm
8.D1=12mm

D2=8mm
D2=8mm
D2=9.5mm
D2=9.5mm
D2=10mm
D2 =16mm
D2=16mm
D2=16mm

U-800

800

640W

6.5, 8, 8.5, 9,10,11,12mm

108mm

U-1000

1000

800W

6.5, 8, 8.5, 9,10,11,12mm

108mm

U-1200

1200

900W

8, 8.5, 9,10,11,12mm

108mm

U-1500

1500

1100W

8, 8.5, 9,10,11,12mm

108mm

U-2000

2000

1400W

8, 8.5, 9,10,11,12mm

108mm

U-2500

2500

1600W

8, 8.5, 9,10,11,12mm

108mm

U-2800

2800

1900W

8, 8.5, 9,10,11,12mm

108mm

U-3000

3000

2100W

8, 8.5, 9,10,11,12mm

108mm
TYPE: B

Material of tube:

AISI304 321,316 Incoloy840

Voltage:

110V-480V

Diameter of tube

6.5, 8, 8.5, 9,10, 11,12mm

Power

200W-3500W
Some Type of B
Type No.

A(MM)

Power(W)

ф D1(MM)

L(MM)

фD2(MM)

B-500

500

200W

6.5, 8, 8.5, 9,10,11,12mm

700mm

1.D1=6.5mm
2.D1=6.5mm
3.D1= 8mm
4.D1=8.5mm
5.D1=9mm
6.D1=10mm
7.D1=11mm 8.D1=12mm

D2=8mm
D2=8mm
D2=9.5mm
D2=9.5mm
D2=10mm
D2 =16mm
D2=16mm
D2=16mm

B-1000

1000

400W

6.5, 8, 8.5, 9,10,11,12mm

700mm

B-1500

1500

550W

6.5, 8, 8.5, 9,10,11,12mm

700mm

B-2000

2000

700W

6.5, 8, 8.5, 9,10,11,12mm

700mm

B-2500

2500

850W

8, 8.5, 9,10,11,12mm

700mm

B-3000

3000

1050W

8, 8.5, 9,10,11,12mm

700mm

B-3500

3500

1250W

8, 8.5, 9,10,11,12mm

700mm

B-4000

4000

1400W

8, 8.5, 9,10,11,12mm

700mm

B-5000

5000

1750W

8, 8.5, 9,10,11,12mm

700mm

B-6000

6000

2100W

8, 8.5, 9,10,11,12mm

700mm
TYPE: BB

Material of tube:

AISI304 321,316 Incoloy840

Voltage:

110V-480V

Diameter of tube

6.5, 8, 8.5, 9,10, 11,12mm

Power

200W-3500W
Some Type of BB
Type No.

A(MM)

Power(W)

ф D1(MM)

L(MM)

фD2(MM)

B-500

500

200W

6.5, 8, 8.5, 9,10,11,12mm

700mm

1.D1=6.5mm
2.D1=6.5mm
3.D1= 8mm
4.D1=8.5mm
5.D1=9mm
6.D1=10mm
7.D1=11mm 8.D1=12mm

D2=8mm
D2=8mm
D2=9.5mm
D2=9.5mm
D2=10mm
D2 =16mm
D2=16mm
D2=16mm

B-1000

1000

400W

6.5, 8, 8.5, 9,10,11,12mm

700mm

B-1500

1500

550W

6.5, 8, 8.5, 9,10,11,12mm

700mm

B-2000

2000

700W

6.5, 8, 8.5, 9,10,11,12mm

700mm

B-2500

2500

850W

8, 8.5, 9,10,11,12mm

700mm

B-3000

3000

1050W

8, 8.5, 9,10,11,12mm

700mm

B-3500

3500

1250W

8, 8.5, 9,10,11,12mm

700mm

B-4000

4000

1400W

8, 8.5, 9,10,11,12mm

700mm

B-5000

5000

1750W

8, 8.5, 9,10,11,12mm

700mm

B-6000

6000

2100W

8, 8.5, 9,10,11,12mm

700mm